Kelvin Tatum & Yrjo 'Vesty' Vesterinen
We are thrilled to announce that the much-anticipated Classic Dirt Bike Show in 2024 will be graced by two legendary figures in the world of off-road motorcycle racing – Kelvin Tatum and Yrjo 'Vesty' Vesterninen.
These two iconic riders have left an indelible mark on the history of dirt bike racing, and we are honored to welcome them as our special guests for this year's event. Their extraordinary achievements and passion for the sport have inspired countless riders and fans around the world.
Meet the Legends:
Kelvin Tatum: A true stalwart of speedway and grasstrack racing, Kelvin Tatum's career has been nothing short of spectacular. With a fearless riding style and an uncanny ability to read the track, Tatum became a household name in the world of motorcycle racing. He's not only a former British Champion but also a three-time World Pairs Champion alongside Simon Wigg, etching his name in the annals of the sport's history. Get ready to hear incredible stories and insights from this speedway legend.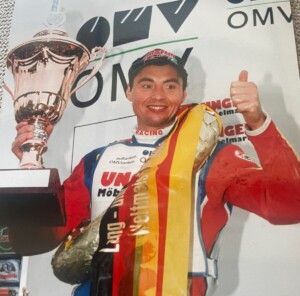 Yrjo 'Vesty' Vesterninen: Hailing from Finland, 'Vesty' is a name synonymous with the golden era of observed trials. His impeccable riding skills and unmatched agility on a trials bike set new standards for the sport. With five World Trials Championships to his name, 'Vesty' is a true icon in the world of trials riding. He will share his remarkable journey and experiences that have made him a living legend in off-road motorcycling.
Join us at The Classic Dirt Bike Show in 2024 to celebrate the enduring legacy of Kelvin Tatum and Yrjo 'Vesty' Vesterninen. This is a rare opportunity to meet these two extraordinary individuals, hear their stories, and get up close and personal with the motorcycles that defined their careers.
Don't miss out on this unique opportunity to be part of a thrilling weekend dedicated to the spirit of classic dirt bike racing. Book your tickets now and get ready to relive the glory days of off-road motorcycling with these two legends at the helm.
Mark your calendars for [Event Date] and be a part of the Classic Dirt Bike Show like never before. Get ready for an unforgettable experience that will leave you inspired and rekindle your love for classic dirt bike racing!